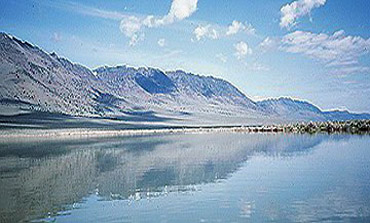 Mann Lake is located 80 miles south of the town of Burns in the sage-covered high desert country of southeastern Oregon. Mann Lake covers more than 275 acres and has a maximum depth of 14 feet. The lake features 2 boat-launching areas (boats with motors are permitted) and 3 camping areas on the north end of the lake. The weather there is extreme and ever changing, the camping conditions are rough and the location is remote, but the early season Oregon fishing is excellent and the rugged beauty of the scenery is well worth the trip.

Mann Lake rests on a saddle at the eastern face of Steens Mountain.

The entire region typifies the basin-range environment of Oregon's least-populated corner. The lake itself occupies a narrow sagebrush basin seasonally occupied by native peoples for thousands of years. Today several large ranches scratch out a lonely existence in the valley, including Mann Ranch, whose cattle graze above the lake's south end and through which flows Mann Lake's lone feeder creek. Pronghorns often graze the slopes to the west and north of the lake, and coyotes get so noisy at times as to disrupt one's sleep. Other wildlife common in the area includes jackrabbits, bobcats, burrowing owls, sage grouse, chukar partridge, valley quail, and myriad raptors, waterfowl and reptiles.


Mann Lake rewards visitors with 10- and 20-fish days, especially during periods of stable weather, and remarkable scenery. The lake provides scenic views of the looming, 9,000-plus-foot Steens Mountains, a huge fault-block range rising gently from the west but dropping thousands of near-vertical feet on its east face. The steep slope dominates the skyline above Mann Lake. Between March and May - the most popular time for fishing here - broad sheets of snow gleam ivory white on the Steens, and storm clouds frequently gather over the rugged crags.

Mann Lake is home to an abundance of Lahontan Cutthroat trout, sub-specie of cutthroat that is the only salmonid that can survive in Mann, which is among the most alkaline of Oregon lakes. As such Mann Lake is the Oregon State repository for the Lahontan Cutthroat, and where all of the states brood stock are raised.



Oregon Department of Fish and Wildlife stocks the 200-acre Mann Lake with Lahontan cutthroat trout. Native to Nevada's Lahontan Basin and perfectly adapted to high-alkaline Great Basin waters, these beautiful fish grow rapidly in Mann's shallow, fertile broth. Within three seasons here cutts span 18 to 22 inches, which is a major reason Mann ranks as a favorite destination of Oregon fly anglers.


TO GET THERE:
Mann Lake hunkers behind the Steens Mountains a long way from everything. The drive from Burns covers nearly 100 miles, a quarter of that on gravel. Follow U.S. Highway 20 to Burns, and follow Highway 78 south, eventually passing the tiny towns of Crane and New Princeton. The road climbs the relatively gentle northern extension of the Steens Mountains and then winds down the backside of the range, where a right turn awaits at Fields-Denio Road (gravel), which leads some 25 miles to Mann Lake. Along the way you will pass the Juniper Lakes, but don't mistake these for Mann. Watch for the signed right turn into the lake. The access road wraps around the lake's north shore. Boat ramps are located on each side of the lake.

A longer route to Mann Lake follows State Route 205 from Burns through the Malheur Wildlife Refuge and Frenchglen. Continue south on Highway 205, which leads through Catlow Valley and eventually crosses the foothills and meets Fields-Denio Road north of Fields. Turn left; Mann Lake lies another hour or so north.

Ample unimproved camping space waits at Mann. This is bring-your-own country, including water, firewood and shelter. If you prefer cozier lodgings, there's a tiny motel in Fields, 541-495-2275. A quaint diner there serves excellent milkshakes and burgers, and an adjacent store has basic supplies and gasoline.

Mann Lake was named for an early nearby rancher, Philip Mann. The closest town is Fields. Charles Fields homesteaded on the present town site and established a station in 1881 that supplied the needs of people traveling through the area. The Fields post office was established in 1913. Fields has a gas station, general store, cafe and motel and is the largest community on the east side of Steens Mountain. It is 21 miles to Denio located on the border of Oregon and Neveda. The cafe at Fields is reported to have a cheeseburger and shake worth driving from Frenchglen.

More Info?
Call Oregon Department of Fish & Wildlife at 541-573-6582 or the Harney County Chamber 541-573-2636